Back to top
News and Announcements
Virtual School Enrollment
Please see the attached for more information about Virtual School Enrollment. The deadline for enrollment is August 22nd.

Por favor, consulte el adjunto para obtener más información acerca de la inscripción en la escuela virtual. La fecha límite para la inscripción es el 22 de agosto.

BPA Lip Sync Battle Extravaganza!!!
Come and help us raise funds for our 8th grade field trip!!! Watch your favorite teachers perform their favorite songs! Food for sale and music by our very own DJ Toney! Tickets on sale at the door $5.00. Doors open @ 5pm here at the BPA Cafeterium.

BPA End of Year Gala!!!
You are cordially invited to our first annual End of Year Gala on Friday, May 17th, 2019. It will be held at the Anthony DePalma Center located at 395 Marigold Ave. Kissimmee, FL, 34759. The gala is a celebration for all our BPA Family and we will recognize staff and students for community and academic success throughout the year. Our staff and students will also entertain us while we partake of delicious Hispanic, Caribbean and American cuisine. You do not want to miss our very own History teacher, Mr. Toney, as our DJ.

Tutoring Cancelled Today and Rest of Week
Tutoring will be canceled today, Thursday and Saturday. We will resume tutoring next week. Please be sure to pick up your child on time today.

New Report Finds Florida Charter School Students Consistently Outperform Their Peers in Traditional Public Schools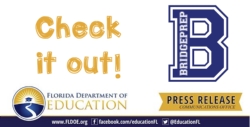 The Florida Department of Education has found that Florida Charter School Students outperform students in traditional public schools. Read all about it in the FLDOE Press Release.

April Calendar

Check out the April calendar. See all the awesome things we have lined up for you.

WE'RE CELEBRATING PI DAY!!!!! (3.14)
On Pi Day, our students will be participating in many fun and engaging Pi-related, in-class activities. To top it off, we will be "pi-ing" three of our elementary and middle school teachers. To determine who will be receiving a "pi" to the face, students will bring in money and place it in the container belonging to the teacher that they would like to see "pi'ed" the most. The three teachers (at each grade level) that raise the most money, will receive a BIG, FAT PIE TO THE FACE! If we raise at least $150, we will "pi" our very own principal, Dr. Atkinson.

Also, The elementary and middle school student that can correctly recite the most numbers in the Pi numerical order will win a SPECIAL prize! Who knew that memorizing pi would be so rewarding?

A Message from CareerSource
One of the Project Consultant at CareerSource of Central Florida for the Project Restore is inviting you to an informational orientation. This project goal is to provide employability assistance to Hurricane Maria evacuees coming from Puerto Rico and the Virgin Islands. We would like to extend an invitation to meet to discuss how we can assist any parent affected by this event. Attached you will find a flyer that explain Project Restore. It contains dates, times and locations for orientations.

March Calendar
Scholastic Book Fair!!!!!
Parents, the Book Fair is back!!!! From Thursday March 7th, until Thursday March 14th, students will be able to purchase books from our book fair! We will be sending flyers home with your child. You may send your child with cash, or enroll in eWallet! We are encouraging all of our students to pick up a personal reading book to read at home! Thursday, March 14th will be our evening sale for parents from 4pm-6pm. Please feel free to stop by and purchase books for yourself or for your children!!